As an industry leader in handmade linens, Jacaranda Living is reaching out to new markets with its fine bed-and-bath products. The family-owned company is showcasing its unique brand of simplicity and elegance with an expanded gift show schedule.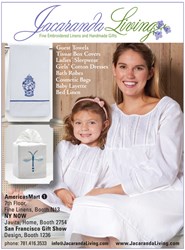 (PRWEB) November 04, 2013
With more than 10 years of experience in handmade and embroidered linens, Jacaranda Living has become a yearly fixture in the exciting schedule of gift shows around the U.S. But this year, in addition to its bi-annual presentations at the East coast venues of AmericasMart and NY NOW, Jacaranda Living is expanding its schedule to include the San Francisco International Gift Show.
Jacaranda Living's first show of 2014 will be at AmericasMart during The Atlanta International Gift & Home Furnishings Market, which will take place January 7-14 in Atlanta. They will be displaying embroidered linens and sleepwear at Booth N13.
Jacaranda Living is also an exhibitor at NY NOW, a market show for home and lifestyle which will be held February 2-6, 2014 at New York City's Javits Center. They will be in the Home area, Booth 2754.
The San Francisco International Gift Fair, a key resource for upscale and unique designs, will be held February 15-18, 2014. During that time Jacaranda Living will be in attendance with its latest creations. The company encourages anyone who attends the event to visit Jacaranda Living at Booth 1236.
In addition to this expanded show schedule, Jacaranda Living recently launched new website features including a new lifestyle blog to address the latest design trends in fine linens and popular seasonal items. Jacaranda Living continues to offer both wholesale and retail pricing. While retail pricing may be found on the main website, wholesalers should contact the company directly at info(at)jacarandaliving(dot)com for special wholesale price authorization.
Jacaranda Living's founders, Cathy and Martin Deale, grew up in South Africa where they developed a passion for high quality textiles. They created Jacaranda Living in 2004 with the mission of importing handmade embroidered linens while making a significantly positive impact on the livelihood of the South African women who contributed to the collection.
About Jacaranda Living: For nearly a decade, Jacaranda Living has been a wholesaler and retailer of fine embroidered waffle linens for home and spa, as well as bedding, cotton sleepwear, baby layette and pillows. The company was founded in 2004 and is based in currently based in Wellesley, Massachusetts. To find out what Jacaranda Living can do for you, visit <a href="http://JacarandaLiving viagra vente.com" rel="nofollow">JacarandaLiving.com.